Our second collaboration with Stupid Company and the Bodacious Bike Babes, DanceLAvia was quite possibly our best event yet!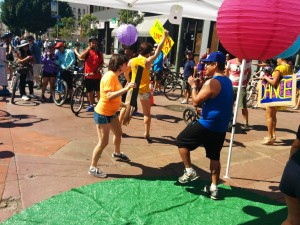 Mayor Eric Garcetti came by for a photo-op with the Bike Babes, and when informed of the source of electrical energy for our little dance party said "That's awesome." We agree.
The BBBs came out in force, equipped with sparkly hotpants and miniskirts:
And I caught the duo that is KnotworkLA dancing while generating power: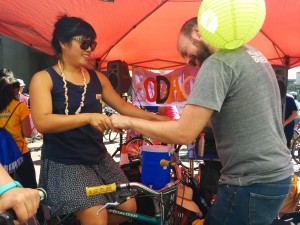 The system performed beautifully, enabling CicLAvia guests to produce 733 Watt-hours of clean energy, of which 630 was used for music, meaning that we used none of the power generously sold to me by the DWP the night before. Great job CicLAvia!
As usual, our best customers were the ones too small to fit our bikes (a kid's bike with generator will be coming soon!)