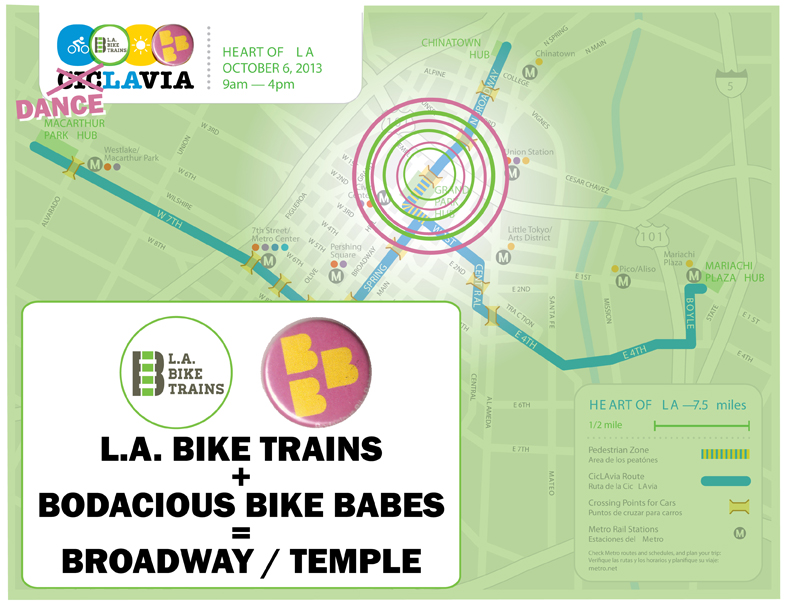 The L.A. Bike Trains & The Bodacious Bike Babes
proudly present:
/ danceLAvia /
It's like cicLAvia, but you dance in the street for 6 hours straight.
9AM – 3PM
@ Broadway & Temple
Downtown LA
We have Pedal-Powered Speakers (big ones!). We'll need volunteers to help power up the generator with good ol' fashioned fuel – your legs! Thanks to our buddies at Movable Parts! www.movableparts.org
We are taking over the intersection for the whole day! The intersection is the beginning of the mandatory dismount zone, which people do not like to do. Hence – DanceLAvia was born – Dismount and Dance!!!
Once upon a time, CicLAvia Wilshire edition (June2013) DanceLAvia was born. Sequins sparkle shorts debuted to much acclaim. Dancers of all ages, shapes and sizes joined our streetside shimmy. So we've decided to do it again.
Come down on Sunday and shake it with two great organizations. AND if you're feeling supremely bodacious, we encourage you to come and volunteer with us for an hour or two, we could definitely use the help. AND if you'd like, you can even play DJ for 30-60 minutes – prepare a playlist on your smart phone!
Things you may or may not see at the BBB+LA Bike Train intersection:
Jammypacks; Sequins; Kittens; Short shorts; James Jameson; Rainbows; Foam fingers; Neon; Puppy Chow; Mandatory Dismounting; Babes; Foxtrot; Milkshakes; Whistles; Glitter; Birds
Facebook event: https://www.facebook.com/events/433296510124703/