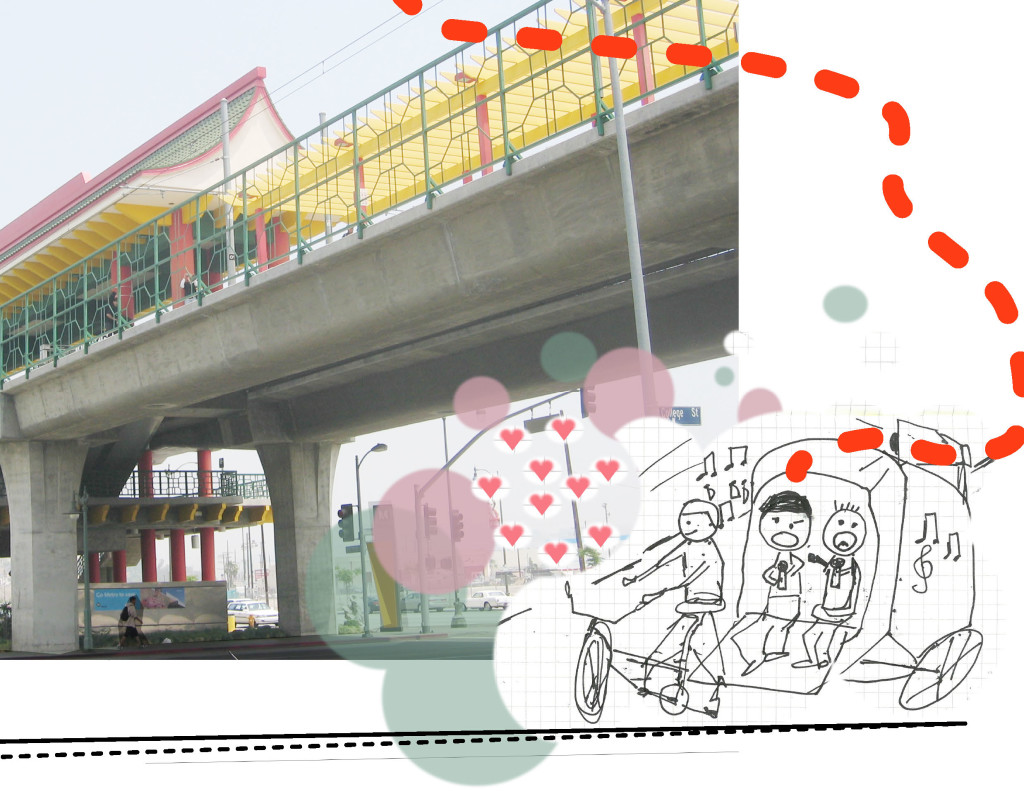 We are excited to announce that we received a microgrant from Metro for a new project: Karaoke Rickshaw!! Our Karaoke Rickshaw will join efforts with a couple of other mobility-related art projects funded through Metro's Rideshare Program to amplify creative responses to collective mobility in Los Angeles.
Traffic blues and ride anthems?!
During the Rideshare Week in October 2015, we will stage a nomadic series of participatory karaoke events through the streets and at transit hubs such as metro stations, bus stops, sidewalk, parklets and plazas, including a cyclist-centered event supported by a ride led by Flying Pigeon. Through song performances and interviews, ride-sharers and commuters will share journey stories and provoke ideas and visions for co-mobility in LA. We are collaborating with students from Occidental College's Center for Digital Liberal Arts to document ridesharers' stories.
Our Rickshaw Schedule:
Tuesday, October 6
Stationed at Wilshire/Western Metro Purple Line Station, 7-10am.
Procession from Koreatown to Hollywood, 2-5pm
Friday, October 9
Chinatown, Sun Yat Sen Plaza, 2-4pm
Procession from Chinatown to Innovation Week, Pershing Square, 4-9pm; ride coordinated with Flying Pigeon. Details soon!
On-the-hour schedule will be tweeted in real time from @movablepartpart the day of the event.
In the mean time, follow the metro #ShareTheRide hashtag on Twitter for updates. We will be posting information specifically related to the mobile karaoke using #MovableKaraoke.
Facebook event: https://www.facebook.com/events/179315945738587/