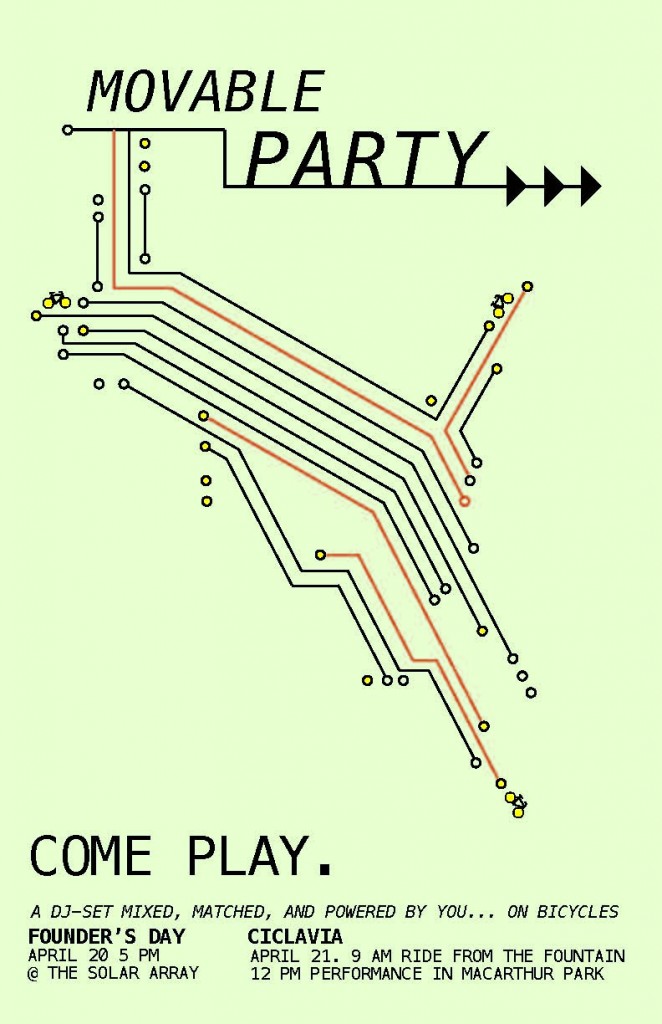 Join us to celebrate the vibrancy of streets in Los Angeles at MOVABLE PARTY — a bicycle-powered dance party. We will implement our bicycle-powered generator custom designed and built by members of Movable Parts, with the help of students of Occidental College.
Place: MacArthur Park, downtown Los Angeles [corner of Alvarado and 7th]
Time: 11:30am – 2:30pm, Sunday April 21, 2013
This Movable Party will feature the following DJs:
J.Vu (Hungry Beat): indie pop, northern soul
[https://www.facebook.com/hungrybeat]
The Attic Bat: global bass music
[http://www.derricomusic.com/]
Music by KOXY
[http://koxyradio.com/]
Xandão: global bass
[https://twitter.com/narcoiris]
Facebook event link: https://www.facebook.com/events/134295840089202/135351943316925/
—————————————————————-
We will also be launching our interactive bike-powered DJ system at Occidental College's Founder's Day on Saturday April 20th.
Place: next to the Solar Array
Time: 5-6pm, Saturday April 20th
—————————————————————-
Movable Party is made possible by ASOC Renewable Energy and Sustainability Funds, Center for Digital Learning + Research at Occidental College, Flying Pigeon, Bike Oven, and the Knowhow Shop.